I just found out about Theta Mom's Time Out Thursday's. What a great idea...so I am joining! Why don't you join me: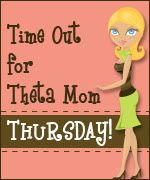 I did my time out on Wednesday and actually it will happen every Wednesday. I went to my church's ladies evening Bible Study. I am gone for about 2.5 hours and it is great to connect with about 15-20 other women and study the Bible. We are working through the study: Anointed, Transformed, Redeemed by Beth Moore, Phyllis Shirer, and Kay Arthur! It is a study on the life of David, who is one of my favorite Bible Characters.
I look forward to this night out, not only because its time away from my kids for a bit, but also because its a renewing time for me spiritually. It gives me the fuel I need to keep myself focused on God and what He wants for me.
Another way I had a time out this week was to take about and hour and a half and do some scrapbooking. I love to do it but just doing seem to ever have the time. If you want to see some of my work, check it out
here
Thanks for joining me in my Time Out Thursday!
What are you doing for your's:)