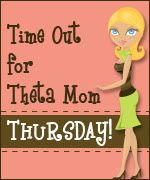 So the whole point of Time Out Thursday is to carve out some time for me. Well, to be perfectly honest that was very difficult for me this week. Yes, I went to Ladies Bible Study Last night for a couple hours, but other than that, nada, nil, nothing.
I have been busy this week, but not more than normal. So not sure why it was so difficult to give myself a "timeout". I know that meeting the needs of my family is important and my God-given purpose but I also know that if I do not take time for myself and burn out, I cannot be effective for my family.
These next couple days are very busy too, my daughter's 3rd birthday party (Princess Theme - go figure!), Church, doing extended child care in my home, and preparing for Canadian Thanksgiving next weekend. I have family visiting from Manitoba at that time, so that is some extra "stuff" for me to deal with next week.
One thing I have realized from reading various authors on time management is sometimes, you just need to add yourself to your "to do list". If that means pencilling in a time on your calendar than DO IT!
So now I have pencilled in some "me time" for this upcoming week and I know it will be so much easier to do it! I hope to update you with a more intriguing "Time Out Thursday" next week:)
God Bless Everyone and have a great day:)