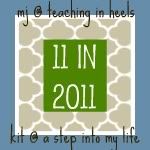 I am so excited that I found this fantastic blog hop to join in as my first one for 2011! Head over to
Teaching In Heels
and join MJ and Kit for 11 in 2011! Today is the first stop!
Here are the topics:
Day 1: New Years Resolutions
Day 2: Favorite Holiday Memory
Day 3: Favorite Work-Out Tips
Day 4: Best Leftover Recipe
Day 5: Places You Hope to go this Year
Day 6: Best Organization Tricks
Day 7: Favorite Memory of 2010

Day 8: Favorite Healthy Snacks

Day 9: Favorite Things to Do on a Cold Winter Day

Day 10: Favorite Girls Night Out Events
Day 11: What are you Looking Forward to in 2011




Since today is Day 1: New Years Resolutions, here is mine:




To live a live of discipline in all areas of my life.




I want to be disciplined in health so that I can lose 54lbs, keep my Type 2 Diabetes under control, and teach good, healthy eating habits to my children.




I want to be more disciplined in my spiritual life so that I will read my Bible daily, memorize 24 scripture passages, and submit fully to God's will for my life this year.




I want to be disciplined financially so that we can be able to purchase our first home, make up an emergency fund, start a retirement and education fund, and be able to live on one income by the end of 2011.




I want to be disciplined in my personal life so that I make more organized time for blogging, scrapbooking, and reading as my favorite past times.




In my marriage, I want to be more disciplined in 2011, so that I really embrace my role as a Christian wife, and really learn what it is to be fully submissive to my husband as his helpmate!




As a mom, I want 2011 to be my best year ever. I want to be the mom that God wants me to be and I resolve to be open and ready to learn all that He wants to teach be.




What are your resolutions for this year?