Wow, hard to believe there is only one more day in the 11 in 2011 Blog Hop. What fun it has been. If you want to check out the rest of the great blogs involved head over to the hosts, Kit at
A Step Into My Life
and MJ at
Teaching In Heels
.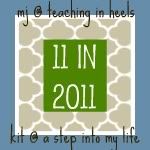 The topic for Day 10 is
Favorite Girls Night Out Events
I have a great group of 3 women that I have been friends with for about 3 years and I love them dearly. I am so thankful to the Lord for the women He has chosen to place in my life. I am not sure what I would do without any of them. Some I have known for over 20 years, and others only a few years but all are dear to me and all have a special place in my heart.
We have done a lot of fun things together including the following:
1. Scrapbooking (although there is much more yakking and laughing happening than scrapping most times)
2. Chick Flick Movie Night
3. Bowling
4. Shopping (most outings are to Michael's for scrapbooking supplies)
5. Dinner and a Movie
6. Getting together on someone's home (no kids around) to just hang out and maybe have a glass of wine
7. Going for a mini spa date, and getting manicures or pedicures
8. Going out for dessert
9. Going to a concert
10. Have a fondue night
What are some of your favorite ideas for Girls Night Out?