I cannot believe that this is the final day for 11 in 2011 hosted by Kit at
A Step Into My Life
and MJ at
Teaching In Heels.
I have had a blast checking out fantastic blogs, some I was familiar with and others that were new to me! A great way to get some fantastic ideas and "meet" some new people.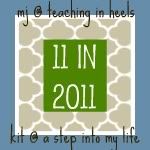 The final topic for this blog hop is What Are You Looking Forward To In 2011?
This is really a loaded topic. For me there are so many things, but I will try to make this the condensed version of my hopes for 2011.
1. I am looking forward to a year of renewal and restoration in my marriage. The last six years have been difficult, especially the last two. However, I am so grateful for the gift of forgiveness, and the strength I have been given by my Lord and Savior, Jesus Christ, to trust again, and to learn what it means to truly work on a marriage. I am so grateful for the difficult times (that I never imagined I would have experienced) because they have not only brought me closer to my husband, but closer to God. It is my hope that this year will be the best year my marriage has seen.
2. I am looking forward to traveling to Manitoba and throughout Alberta. We did not get a chance to do a lot of traveling last year but this year will be different. Now that our children are a little older, we are discovering a ton of activities we can do as a family. I can't wait to do some "staycations", road trips and even the adventure of flying with a five year old and three year old at Christmas.
3. I am looking forward to seeing my girls continue to grow and develop right before my eyes. I cannot believe how fast the last four years have gone, and I am amazed at the things my girls teach me every day. Even when I think I am having a bad day, when I get that hug at bedtime and hear "You are the best mommy in the whole wide world" all the bad melts! With my oldest starting Kindergarten in September I am looking forward to some more firsts and even the tears that may accompany them.
4. I am looking forward to all that the Lord is going to teach me this year. Whether it is in the good or bad times, the trials or the triumphs, I know that there is always something to learn from Him. This is the year I want to learn true discipline in all areas of my life and I look forward to God's teachings.
What are you looking forward to in 2011?