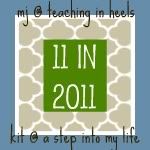 Favorite Workout Tips:
1. Don't try to do too much too soon - baby steps is much more effective, especially when first starting out...and it will keep your interest!
2. Mix It Up - I love mixing up my workout routines, so that one day a week I work on a different area of my body, as well as a different type of workout (ie: cardio, yoga, walking, weights, etc). It allows my body to recover while still getting a workout, but also gives me a great variety so I keep motivated with a series of fun workouts.
3. Use your day planner to schedule your workouts. Treat them like appointments, and you will be more likely to stick to doing them
4. Have a workout buddy - great way to encourage each other and keep one another accountable to your routines
5. Figure out when you are the most likely to be successful in completing your workouts - morning or evening - and stick to that. If you do, you are more likely to stick to working out and reach your goals
6. Keep your goals achievable. I like to break my weight loss goals down in 10lb increments so that it does not look so daunting when I look at my total weight loss goal
7. Give yourself a reward for reaching certain workout goals. For example, since receiving an E-reader for Christmas I am going to treat myself with a new E-book for each workout goal I reach. Right now my goal is to workout 4 days a week.
8. Have fun music! I always find that fun, upbeat music makes for a fun, upbeat workout and it seems like it goes by a lot faster too!
9. Don't forget to do your warm up and cool down exercises.
10. Don't forget proper nutrition - for example, don't skip meals, and keep hydrated!
What are some of your favorite workout tips?
As you may have noticed, I am part of a blog hop, called 11 in 2011, hosted by Kit at
A Step Into My Life
and MJ at
Teaching In Heels
Check out these two fantastic blogs and join in the fun today!