Well, its Day 4 in the
11 in 2011 Blog Hop
, hosted by Kit at
A Step Into My Life
and MJ at
Teaching In Heels
and I am so excited about today's topic: Best Leftover Recipe. Head over to these great blogs and link up today!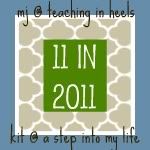 With Christmas and New Year's just past, many of us (myself included) have lots of leftover turkey and for days we wonder what to do with it all. Sure, you can stick with the stand-by soups and sandwiches, but I thought I would share with you a wonderful recipe that takes leftover turkey up a notch in the yummy department. This recipe is one I have used for a while, courtesy of Southern Food on About.com
Ingredients:
8 ounces mini penne pasta or similar shape
6 tablespoons butter
6 tablespoons flour
1/2 red bell pepper, chopped
1 clove garlic, minced
1 bunch green onions, thinly sliced
1 1/2 cups chicken broth
2 cups milk
1/2 teaspoon salt
1/8 teaspoon freshly ground black pepper
1/4 to 1/2 teaspoon poultry seasoning blend, or to taste
cooked asparagus, cut in 1-inch pieces, about 2 cups
3 cups diced cooked turkey
8 ounces shredded Sharp Cheddar cheese
1 cup soft bread crumbs
1 tablespoon melted butter
Preparation:
Grease a 9x13-inch baking dish. Heat oven to 350°.
Cook pasta in boiling water following package directions.
In a large saucepan over medium-low heat, melt butter; add bell pepper and sauté until tender. Add garlic and green onion; sauté for 1 minute longer. Stir in flour until well blended. Stir in chicken broth, cooking until thickened. Stir in milk; continue cooking, stirring frequently, until thickened and hot. Add seasonings, asparagus, and turkey; heat through. Stir in cheese and cook until melted. Stir in the cooked drained pasta and pour into the prepared baking dish. Toss bread crumbs with 1 tablespoon melted butter and sprinkle over top. Bake for 30 to 35 minutes, or until hot and bubbly.
Serves 6 to 8.
Enjoy!
QUESTION: What is your favorite recipe for using leftovers?