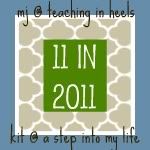 Today is Day 5 in the 11 in 2011 Blog Hop, hosted by Kit at
A Step Into My Life
and MJ at
Teaching In Heels.
The topic today is
Places You Hope To Go This Year
. Since my family and I live out of town from both our families, this is a really easy post!
Here are a few trips we would like to make this year:
1. Winnipeg, Manitoba Canada to visit my family in July and December
2. Drumheller, Alberta Canada to visit the
Royal Tyrrell Museum
3. Vauxhall, Alberta Canada to visit my in-laws (we are trying for one trip per month, they live 45 minutes away)
4. Calgary, Alberta Canada to visit some of my extended family and go to the Calgary Zoo
5. Austin, Texas USA to visit my sister and her family, and maybe go to the Women of Faith Conference
Check out the blogs above to join in this awesome blog hop!
Where are some places you hope to go this year?