Today is Day 6 in the 11 in 2011 Blog Hop, hosted by Kit at
A Step Into My Life
and MJ at
Teaching In Heels
. Todays subject to post about is Best Organization Tips. I can't wait to share some of my tips with you today, and please check out the other blog participants tip's by checking the links above! I am sure there a ton of great ones, and I am sure we will all learn some new ones as we read!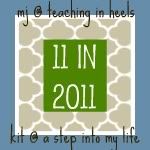 Here are just a few things I do to keep myself and my home organized.
1.
I use a Home Management Binder (HMB)
- you can see my post about my binder
here
(including some photos). This binder the key to keeping organized as a stay-at-home/work-at-home mom. It contains everything I need to keep things flowing and organized.
2.
My Day Planne
r - I would seriously be lost without one. I actually typically go through 2 or 3 a year because I find ones that I like initially then, after a couple months tend to find ones with other features I love. I think I am addicted:) Yes, I have calendars in my Home Management Binders, but my dayplanner is basically a portable HMB, with numbers, meal plans, grocery lists, schedules, etc
3.
Toys
- I have my children's toys and play things separated into bins with a picture on the front to show the girls (and my home daycare children) where each type of toy goes. Not only is this a great tool for organizing but helps to teach children cleaning skills early. I also have the word of the toy typed out for pre-reading/early reading children.
4.
Regarding toys
- instead of having all my children's toys out and available for play, I put out a certain number of buckets and rotate them on a bi-weekly basis (or sooner, depending on interest). I have all the toys (including those stored) in labelled buckets so switching is quick and easy. Keeps the storage room organized too.
5.
Menu Planning and Grocery List
- Menu Planning has been a huge help to my organization problems of the past. In my HMB, I have a pantry and freezer inventory that I regularly keep updated. When it is time to menu plan (I try to plan 30 days at a time, minimum 14 days), I can just look at my lists and see what we have, figure out meals based on available ingredients and then create my grocery list from this point. Not only does this save me time at meals, but it really does help me save money grocery shopping as I am only usually buying what is absolutely needed.
6.
Recycling Center
- I use small and medium recycling buckets, like
these
, in my hall closet, for all my recyclable items. I currently have 4 small/medium ones for smaller items like bottles, milk jugs, cans, and one large for paper. I love that on recycling day, I can just grab the boxes and dump them into bags, already separated. Also, each container is labelled with a picture, so my girls can help with recycling as a "chore", even at ages four and two.
7.
Devotional Time
- To ensure that my devotional/quiet time can start as punctual as possible, I have a lined seagrass basket (lined), like this
one
, on my dresser top. It contains a Bible, notebook, pencils, pens, highlighters, a copy of the book I am currently reading, my Kobo e-reader, and recipe cards (for memory verses). This system saves me from running around the house looking for everything I need, getting frustrated and then having a really stinky attitude (not great for devotional time).
8.
Tupperware Modular Mates
- if you have them, you know exactly what I am talking about, if you don't have them get them! These have been instrumental in keeping my pantry organized. I have one for cereals, pasta, oatmeal, sugar, flour, etc. And I could stand to get a few more. Great thing they are on sale right now! Check them out
here
. They are a little more money to purchase then the cheaper versions you can find in stores, however the biggest pro is that they have lifetime guarantees!
9.
Empty Spice Jars
- especially those from Epicure or similar sized. These are fantastic for storing scrapbooking embellishments. And believe me, I have a ton! Not only are you able to store embellishments, but push pins, small beads, etc and you are helping the planet by reusing! Dollar Stores also carry small jars that could be used for this purpose.
10.
Children's Clothes
- my daughter's share a room, so closet and room space is premium, even at ages four and two. For space saving sake, we have never used a dresser, but instead a 6 shelf Sweater Bag, for each child's items that can be folded (underwear, shirts, sweaters, pajamas). Also we organize the girls clothes in size order. This was particularly beneficial when the girls were under the age of one, and we owned clothing of various sizes. Now my girls are pretty much wearing steady sizes, so we just divided the closet up in size 5/6ish and 3.
What are some of your favorite organizing tips that you would like to share?