Today is Day 8 in the 11 in 2011 Blog Hop, hosted by MJ at
Teaching In Heels
and Kit at
A Step Into My Life
.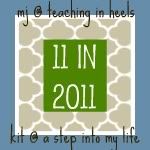 Todays Topic is
My Favorite Healthy Snacks
and I can't wait to share some fantastic snack ideas with you! All of them are ones that are also kid-friendly and Type 2 Diabetic friendly.
1. Ants On A Log - really great way to get veggies, fruit and protein in one snack....Celery, Peanut Butter, and Raisins. I have also used Cottage Cheese or Cream Cheese. A tablespoon of peanut butter gives you a great source of protein, and at least 2 servings of veggies, depending on the amount of raisins and celery you use.
2. Apples and Peanut Butter - Again a great source of fruit and protein
3. Raw Veggies and dip - I love Epicure Selections Spices and Dip Mixes and often use them with raw vegetables. The dip mixes are made with sour cream and mayo, and I always use a low-fat version to make it healthier.
4. Popcorn - Plain with no butter is my favorite and the most healthy. I will occasionally use a popcorn seasoning on it, but always one that is low sodium
5. Nachos and Salsa - by far my fave snack and also pretty healthy. Salsa can be used as a veggie serving, and your chips as a grain. Using a multi-grain nacho chip also will help make it a little healthier
6. Rice Cakes - I know strange, but I love these things! I do like the flavored ones, although they may not be quite as healthy for me:) I also like plain ones, adding peanut butter, or other spreads on it. Very kid friendly, especially the Quaker mini ones!
7. Hummus and Crackers - I just recently discovered the joys of hummus and cannot wait to try to make my own. Such a fantastic source of protein and perfect for those who prefer a vegetarian diet.
8. Cookies and Milk - okay so not exactly healthy but definitely a classic. And I suppose it could be healthy, depending on the type of cookie (especially if you make them yourself).
9. Trail Mix - especially with dried fruit. Again, one of those snacks that seem healthy but loaded in extra sugars (dried fruit) so I usually have to be careful how much I have.
10. Fruit and Dip - yummy and healthy, what more can you say.
What is your favorite snack?