Today is Day 9 of the 11 in 2011 Blog Hop, hosted by Kit at
A Step Into My Life
and MJ at
Teaching In Heels
. Check out all the great blogs involved and all the fantastic experiences and ideas we each have to share, on a variety of topics.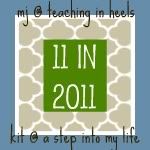 The topic for Day 9 is
Favorite Things To Do On A Cold Winter Day
Living in Southern Alberta in Canada, we are known for weather extremes and some pretty wild winter weather. As I write this, the snow is falling and blowing, and the wind is brutal.....but I am inside and having a great day despite the blah weather.
Lethbridge, AB Canada
Here are just a few of my favorite things to do on a cold winter day:
1. Snuggle up under a blanket with the current book I am reading and a cup of tea
2. Having a tea party with my girls
3. Do a craft with my girls
4. Cross-stitching or working on scrapbooking
5. Pulling out the hide-a-bed, snuggling under the blankets and watching movies as a family
6. Reading books with my girls
7. Having a cup of hot chocolate
8. Making homemade soup for lunch
9. Having a warm bubble bath with my favorite book
10. Staying inside and putting on my favorite sweater and slippers
What is your favorite thing, or things, to do on a cold winter day?