As I read through One Thousand Gift by Ann Voskamp, creator of A Holy Experience, and host of Multitude Mondays, I have learned so much. I have learned that life is not an emergency (to slow down), that blessings and gifts come even (and especially) in the small, everyday occurrences of life, and that I am so blessed.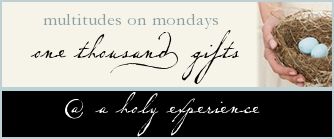 The whole I idea of being grateful is not a new concept to me, but daily seeking out the blessings in my life and recording them in my 1000 Gifts Journal is. I am loving it and have even started to incorporate the concept with my oldest daughter (she is 4.5 yr). I try to daily talk with her about what God has given to her, and to thank God for all those gifts (blessings). Though she cannot write these things down just yet, I am so glad that she is so verbal in speaking them! Thank you Lord for teachable moments
Here is some more from my list:
#45 Being cancer free for almost six years!
#46 tea parties with my girls
#47 the hardest two years of my life
#48 the lessons learned as part of those two years
#49 forgiveness given and received
#50 the questions of "why" and "what" from my 4.5 yr old daughter
#51 hearing the words, "read to me Mommy"
#52 a heart changing
#53. listening to praise and worship music
#54 the sound of children's laughter
Be Blessed this week as you look for your blessings in your everyday!