Looking out my living room and kitchen windows this morning, the beauty of Spring is once again hidden by Spring snowfall. Although we had melting snow and had fun on our grass last week, the beginning of a new week covers everything in a beautiful layer of freshly fallen white.
As I watch the snow falling I am once again reminded of the Glory of God and His timing. The calendar on the wall definitely says its March 22, and therefore Spring should be here but God in His Glory has made the snow fall once again on Southern Alberta, hopefully for the last time this season. As long as winter has been, and as much as we have enjoyed the beautiful temperatures, I am okay with this snowfall. I have spent this last winter amazed by the beauty of His creation through snow. I will be honest and say, I prefer no snow and warm temperatures, but the beauty of falling snow is something that I love. There is something so refreshing and mesmerizing about the snow.
As I reflect on the gifts I have seen throughout the busyness of my life this week, I sit and smile. There were so many times this week where mess and things to do seemed overwhelming and frustrating. However, as soon as I looked at these situations as gifts, my whole attitude changed. I know that the Lord has been working in my heart and changing me for the better. I am so grateful to have seen how He is working through author and blogger Ann Voskamp and her book, One Thousand Gifts.
Here is my continuing list on 1000 Gifts and it is my prayer and hope that you will join her in the journey of looking for the small gifts, even in the everyday. Check out Multitude Monday at
A Holy Experience
and join in the journey today.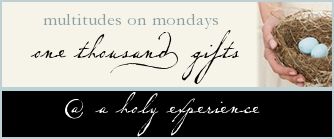 #31 being reminded that He is my strength in trial and that I can constantly come to him in prayer and rejoice always, regardless of what's happening (this verse is on my living room feature wall and I see it every morning!)
#32 the peace I feel when I give up my worries to the Lord
#33 for a husband who watches the girls while I have a bubble bath and book break
#34 the ability and chance to cook homemade meals for my family
#35 the taste of my favorite snack, sugar snap peas
#36 the smell of a wood burning stove
#37 living in a country where I am free to worship Jesus
#38 the beauty of a prairie sunrise
#39 encouragement from friends
#40 listening to online sermons
#41 successful surgery for my sister
#42 seeing my two year old reach milestones like using scissors
#43 seeing my four and a half year old reach milestones like drawing people (her family below)
#44 the developmental milestone of a child printing their name legibly (my 4.5 yr old)
How is your journey going? Are you looking for the gifts in your everyday experiences? What are some gifts you have experienced today?
Be blessed as you look for the beauty in the small things!