So last week I was busy with sick children and life in general, and never got around to participating in
Multitudes On Mondays
, hosted by Ann at
A Holy Experience
. But I am back this week and ready to continue listing my 1000 gifts. I have really enjoyed spending time in my day seeking out all the gifts in a regular day, even in the smallest things. Ann's book, One Thousand Gifts has been an extraordinary gift to me and I am so glad that the Lord is working through you via this book.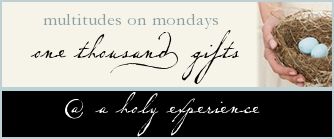 So without further delay, here are ten more gifts from my ever growing list:
#11 Beautiful glisten of falling snow
#12 The sound of children playing together
#13 The safe return of my husband from out of town
#14 Reading books to my girls
#15 Purging my home of things I don't need/want, so I can live more simply
#16 Saturday night family movie night
#17 At home date night with my husband after the girls have gone to sleep
#18 Online sermons to bless my day
#19 A roof over my head
#20 Continued weight loss that is leading to a healthier lifestyle
As I begin a new week, I am so grateful to the Lord for all His blessings on my family and I. During the last year, I have experienced a wilderness experience like never before. As hard as it has been, I am so incredibly thankful to the Lord for bringing through it and for all the lessons I have learned because of it. I know that the book, One Thousand Gifts has come into my life at just the right time that I needed to read it, and it has blessed me tremendously. Now, as I purposely thing of my own one thousand gifts, and share bits of wisdom from Ann Voskamp, it is my prayer that you will join me on your own one thousand gifts journey.
Here are a few quotes from the book, that I have been especially drawn to:
"As long as thanks is possible, then joy is always possible"
"God is in the details; God is in the moment. God is in all that blurs by in a life - even hurts in a life God!"
"Prayer without ceasing is only possible in a life of continual thanks"
"Giving thanks for one thousand things is ultimately an invitation to slow time down with weight of full attention. In this space of time and sphere, I am attentive, aware, accepting the whole of the moment, weighing it down with me all here"
"Emergencies are sudden, unexpected events - but is anything under the sun unexpected to God?...Stay calm, enter the moment, give thanks"
If you would like to learn more about One Thousand Gifts, check out the
official book website
, and also check out the
book club
.
Be blessed this week!