The view from my kitchen this morning. What a glorious
testament to God and His fingerprint on creation.
I totally did not link up yesterday on A Holy Experience for Multitude Mondays, and the link is still open, so going to do it instead today.
This last week has had me reflecting a lot. On life, friends, family, choices made and my faith. With so many things happening around the world that could bring a person down, like the tragedy's in Japan, war in Libya, etc I have been especially thoughtful this week of what I am grateful for. Here are a few more of my 1000 gifts!
21. Working out before the family awakens - a time to rejuvenate and prepare my body for the day
22. Ladies Bible Study - studying Beth Moore and learning so much through the life of David with a wonderful group of women
23.Long time friends, who despite separating miles, still impact me, some I met over 20 years ago
24. the beauty in snow covered evergreen trees
25. beauty in an expectant sister, who will be a first time mom
26. hearing a knock knock joke from my four year old and watching her double over in laughter because she thinks she is so funny (she really is!)
27. hearing my 2.5 yr old singing Bible Songs (current favorite is Jesus Loves Me and I'm In The Lord's Army)
28. the smell of cookies in the oven
29. reading a book under a warm quilt and my puppy laying in my lap
30. Being reminded that He is my Strength (Philippians 4:13)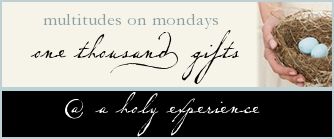 If you would like to join Ann at A Holy Experience for Multitude Mondays, you can link up throughout this week
here
.
And, if you have not had the chance to read One Thousand Gifts by Ann Voskamp, I highly recommend it!
Be Blessed Today and Always!