This past weekend brought another snow storm here in Southern Alberta, and though I could do without snow in April, I was so blessed this weekend. I had some great quality time with my husband and kids, and then we opened our home on Sunday to some of my husband's family for a great time of fellowship and Nachos! So fun!
As I look over the past week, I can honestly say, I definitely looked for the gifts in the small things and journaled about them. This practice, learned from Ann at
A Holy Experience
has been truly life changing and attitude changing. Not all days are perfect, and complaining still happens but for the most part I am truly a happier person.
Here is my list of the small things that I have found in my everyday this week:
85. Health
86. hearing my children play at bedtime
87. the desire of my children to learn (they can slow down any day:))
88. dishes in the sink as evidence that I provided my family with a healthy and yummy meal
89. smell of chicken soup cooking
90. His Grace
91. His Sacrifice at the Cross
92. His Strength given when I don't have any
93. Bubbles
94. hearing, "you're a great mom" on a hard day
95. hugs
96. doggy kisses
97. prayers answered
98. humility
99. honesty
100. kind words
101. little hands on freshly cleaned windows
102. talking with my mom on the phone
103. listening to hymns to start my day
104. snuggling with my youngest in the early morning hours
105. hearing the sound of geese
106. watching the kids share and take turns
107. watching my oldest help her sister with her zipper
108. receiving four new books in the mail
109. listening to the girls on the phone with their Oma
110. finishing the Bible in 90 program in 83 days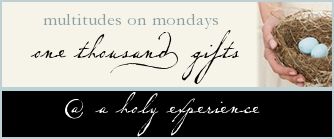 What about you? What small gifts have you found in your everyday life? My list is always ongoing, and I love reading about others' journey through recording our 1000 gifts. If you want to join in, or just be inspired, head over to
A Holy Experience
today.
Be blessed,