A few months ago I had the wonderful opportunity to read Ann Voskamp's One Thousand Gifts (published by Zondervan). This book has completely changed my outlook on life. As many of you know, life as a homemaker and work at home mom (I have a home daycare) can be crazy most days, and there have been many days where I have had epic mom fails. At the end of the day though, as I reflect back on the lessons taught to me through One Thousand Gifts, I smile and think about just how blessed I am.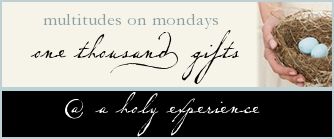 I began my journey of recording my own 1000 gifts list on this blog, and in a physical journal as well, and every Monday (when I can) I link up with Ann at
A Holy Experience for Multitude Mondays
.
114. Discernment
115. smell of coffee brewing first thing in the morning
116. books
117. new blog to follow from a fellow Christian mom
118. His Peace
119. Praying for a friend
120. Capturing Life on Camera
121. being reminded that I am not perfect and that's okay
122. my day planner
123. my home organization binder
124. a messy kitchen as evidence of a of a productive morning
125. making summer trip plans
126. Oma and Opa Babysitting
127. smiles and smooches
128. being greeted at the door by my puppy
129. early hours Bible reading time
130. "mommy time outs"
131. watching a favorite tv show
132. Talking to my sisters
133. a new CD
134. hearing my favorite hymn
135. meeting my nephew for the first time
136. a sleeping child
137. baking
138. fingerpainting
139. laughing until I cry
140. the lessons learned in being flexible
141. a cup of hot chocolate
142. board games
143. watching hockey with my husband
144. hearing my daughter yell, "hurry, hurry hard" while watching curling with her daddy
145. sunshine despite the cold and snow (in April)
146. homemade soup
147. learning a new recipe
148. organizing
149. watching my husband rough house with the girls
150. a husband who loves me, despite me
I will continue to record my list next week, until then I encourage you to check out
A Holy Experience
today.
Be Blessed,