During this last year, I have had the privilege to read Ann Voskamp's remarkable book, One Thousand Gifts. It has changed my life. Correction, God has changed my life through Ann and her book. For about two years I have been extremely blessed to read her blog,
A Holy Experience
, and interact with her on Facebook, so was so excited when her book was released. If you haven't read it, you NEED to. But before you do, pray that you will be open to what God wants to teach you through Ann and her writing. The biggest thing about this book is the challenge she puts out to the reader to look for joy, even in the toughest of times, the messy times, the hard times. It is not an easy thing to do in midst of difficulties to see joy but doing so has changed me and challenged me, and for that I am grateful.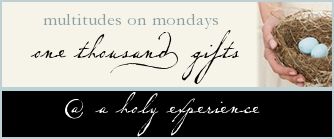 Today, I am joining many other women as we continue our 1000 gifts lists, for Multitudes on Mondays, and I urge you to join us!
151. giggling
152. watching hockey with my husband
153. hearing my daughter yell, "hurry, hurry hard" while daddy is watching curling (she was 4.5 at the time)
154. having family over for a meal
155. wool socks
156. falling snow (in April)
157. sunshine despite the cold
158. homemade soup
159. learning a new recipe
160. organizing
161. watching my husband rough house with the girls
162. happy barking from the dog
163. husband who loves me in spite of me
164. questions from kids that make me think
165. phone chats with long distance family
166. listening to my girls singing
167. fresh air
168. Veggie Tales
169. What's In The Bible DVD's
170. Learning a new way to budget
171. saving money
172. deciding to get debt from through Financial Peace University
173. quiet time
174. watching my child sleep for a while
175. a gift of cross stitch supplies from a friend
176. scrapbooking and its creativity outlet
177. being reminded that the dishes can wait
178. windy days
179. family
180. reading my Bible
181. hearing my four year old tell me the reason for Easter
182. hearing my nephew's cry for the first time
183. taste of oranges
184. trying a new tea
185. sun on my floors
186. patience through potty training
187. praying for family and friends
188. positive health news for a family member
189. fresh cut grass
190. gentle breezes
191. learning about true Biblical submission
192. late night talks with my husband
193. the imagination of two year olds
194. the brisk air first thing in the morning
195. meeting new friends
196. re-connecting with old friends at Ladies Retreat
197. worship time at retreats
198. letting go of perfection
199. anticipation of getting home after a weekend away
200. a verse from the Bible that speaks to me
Be blessed today and always as you CHOOSE JOY, even when you don't want to!